Crail Golfing Society - Balcomie Links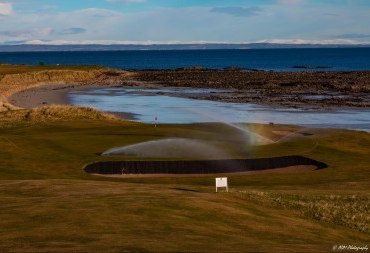 The autumn and winter of 2019 and 2020 has seen the seventh oldest golf club in the world at Crail Golfing Society install a new irrigation system on its historic Balcomie Links which was formerly laid out by Old Tom Morris in 1894 (9-holes) and completed in 1900 (18-holes).
The existing irrigation system had reached the end of its life and at over 30+ years old had served the Balcomie Links very well.
Following a detailed planning, design and member consultation and approval process, work began on installation of the new irrigation system in October 2019.
The scope of work included:
Water storage
Pump house and pump station
Main line pipe work
Irrigation to greens putting surfaces, immediate green surrounds, green approaches, selected fairways and tees playing areas
Central control system
The work was completed on schedule at the end of February 2020, which was timely as nobody could have forecast how life in the UK would change on the 23rd March 2020 with the Covid-19 lockdown.
We would like to thank all those involved including officers of the golfing society, the greenkeeping staff, irrigation contractor and irrigation manufacturer for working tirelessly and in harmony to deliver a quality product for Crail Golfing Society.
The golf courses at Crail Golfing Society experienced one of the driest spring and summers in 125 years of record keeping between March to the middle of June 2020 so this provided a true test for the newly commissioned irrigation system. In the words of the Course Manager, Bob Meikle himself, we are pleased to say "this was a real test of our new Balcomie course irrigation system which performed brilliantly even in breezy conditions".
< Back