2020 - What a Year!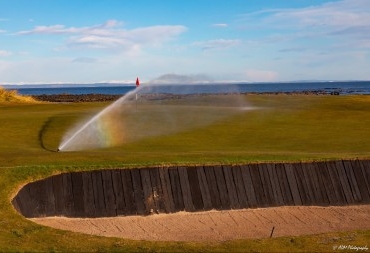 Another year has passed and what a year it has been. Who would have thought when 2020 began that by the end of the year many would have been celebrating Christmas and New Year alone at home. Many of us embraced what at the start of 2020 was just video conferencing software, used predominantly within the business world, to allow them to speak to their nearest and dearest family and friends. Our best wishes to all for a healthy and successful 2021.
We at AMA had a busy year during 2020. The year started with us presenting our irrigation design workshop for its 20th year at BIGGA's BTME 'Continue to Learn' in Harrogate and Timmy Sethi starting working with AMA. We finished projects including for Crail Golfing Society at the end of February and then March arrived.
While 'lockdown' was firmly in place in the UK we focussed on our continued planning and designing for clients including Royal Copenhagen GC, Luffness New GC, AELTC etc.
We were also commissioned in March to assist Carnoustie Golf Links with the future development of their irrigation system over all of their courses. This will now mean that AMA have designed and consulted to almost all of the golf courses which currently, or have historically, hosted the R&A's major Open Championship. This is something we are extremely proud about and can only thank those clients for the privilege bestowed upon AMA to be given the opportunity to work alongside them.
The UK's weather entered another dry spring and early summer with water resources being used in large quantities. Would a summer of 2018 materialise? The answer was no, which for some was fortunate as this allowed for surfaces to recover particularly with the increased golfing traffic which appeared after lockdown restrictions were relaxed.
Our project at the Royal Automobile Club was running during lockdown and through a team effort it was finalised early in the summer.
As autumn appeared the second phase of works with Royal Troon and John-O-Gaunt got underway with teams enduring the very wet end to the year. These projects are continuing into 2021.
As well as assisting / planning / designing and managing projects for existing and new clients 2020 has also seen AMA writing documentation for the R&A 2030 initiative and assisting with writing policy and training documentation for the Commonwealth War Graves Commission (CWGC).
During 2020 AMA undertook design and consultancy work around the world including in the UK, Ireland, Denmark, France, Hong Kong, Iceland, Saudi Arabia, Spain, Switzerland and Vietnam.
Whilst we will not be presenting for BIGGA at the Continue to Learn 2021 we hope to be back in 2022 to deliver our irrigation design workshop. The success of our workshop is down to the industry professionals who we have had the pleasure of educating over many years. Passing on our knowledge and experience is something which is core the to the values of AMA.
On a final note it would be remis if we did not mention the fantastic effort, often over and above the call of duty, golf course greenstaff and groundsmen and golf courses / sporting venues, have undertaken in 2020 to ensure their venues have remained open for the recreational pleasures of our population in the UK and Internationally. We applaud you and thank you all and wish you a prosperous 2021.
So please enjoy 2021 and embrace all that it brings.
< Back